This month I read 4 books!!!
Ok, too many of you four books a month may not seem like much and to some of you, it may seem like loads! But for me, this is good. I've been in a bit of a reading slump lately, although I have been reading at least one book a month.

While I was on holiday I read A Court of Wings and Ruin and The Girl with Seven Names and I loved both of them. They are both extremely different books but both amazing! That started my reading kick for this month and so I went on to read a further 3 books!
A Court of Wings and Ruin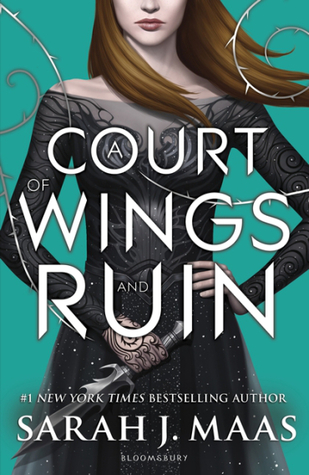 Originally published: 2017
Author: Sarah J Maas
Page count: 705
Country: USA
Genres: YA/ Fantasy
Goodreads Rating:
My Rating:
Brief Review:
So I don't want to have any spoilers in this so I'm going to be brief. I LOVED THIS! I loved Feyre and Rhysand and Amren and Azriel and Cassian! This book is my definition of all the feels. I cried and laughed a lot. If you are hesitant to pick this book up, believe me, you have nothing to worry about and you should pick this up ASAP!
The Girl with Seven Names (Escape from North Korea)
Originally published:
2015
Author: Hyeonseo Lee
Page count: 293
Country: USA
Genres: Non-Fiction
Goodreads Rating:
My Rating:
Brief Review:
For some reason I've been really curious about North Korea lately, I think it might be because I read I Am Malala a few months ago. That book got me thinking about books set in countries which I pretty much know nothing about and so I picked this up.
This book was amazing, it made me feel so many different emotions in a very short period of time and I devoured it. It certainly wasn't one of those boring nonfiction books that take you ages to read, I flew through this in a few days. If you are in anyway interested in North Korea and people that escape from North Korea, I would highly recommend this.
See my full review @ https://alishaswords.wordpress.com/2017/07/27/the-girl-with-seven-names-escape-from-north-korea/
City of Heavenly Fire
Originally published:
2014
Author: Cassandra Clare
Page count: 733
Country: USA
Genres: YA /Urban Fantasy
Goodreads Rating:
My Rating:
Brief Review:
I know I am so late to the party with this book but it was so intimidating! I let it sit for probably 2 years, debating the whole time whether or not to pick it up and I am so glad I finally did! This was an amazing conclusion to this series and Cassie Clares writing just seems to improve with every novel she writes.
There were things that happened in this book that really shocked me and amazed me. I cried at least 3 times and Simon makes me laugh so much that I couldn't even begin to count how much I laughed. I really enjoyed this book and I would also highly recommend it.
Clockwork Angel
Originally published:
2010
Author: Cassandra Clare
Page count: 482
Country: USA
Genres: YA / Urban Fantasy
Goodreads Rating:
My Rating:
Brief Review:
Well as you can see City of Heavenly fire MURDERED me and I didnt want to leave the shadowhunter world, so I started the Infernal Devices.
I really really enjoyed this book, I loved the setting! Cassie Clare's writing is so detailed that it makes the world so vivid, reading the section "Tessa's London" You can just tell how much research went into to making her London as believesbks as possible.
Of course I have to mention Will, Tessa and Jem and oh my goodness I am already so attached to these characters it's ridiculous. As soon as I finished this book I picked up Clockwork Prince and I'm working my way through it quite quickly. If you are at all thinking of picking this book up I would do it asap because it's brilliant!
Well guys that's my wrap-up for July! I hope the brief reviews are ok, since I'm only getting back to blogging I'm really nervous about writing again! It's so strange!
Anyway I hope use all have a great reading week and I'll talk to use next week. Happy reading.
Lish x
Come say Hi on social media if you want!
Twitter – @Lishwells19
Tumblr- @Alishas-words-of-wonder
Instagram – @Alishas_words
Bloglovin – https://www.bloglovin.com/@alishalaurenwells